3 fully-packed well-researched emotional wellness toolkits​
So we are all unhappy, actually enraged, by the stories of racism and rape that are currently making headlines. 
What nobody is asking is this; these perpetrators, how did such level of meanness grow in them? What was their childhood like? 
We adults have to stop focusing on the things of matter and shift our focus to the things that matter. 
From a young age, we focus on physical needs, then intellectual and  sometimes spiritual needs,  consistently neglecting emotional needs from the earliest years. 
We teach basic hygiene to kids, all focused on physical health, but allow their emotions to grow rusty!
When we begin to teach first aid too, the focus remains on physical health only! 
The average child is denied basic emotional needs from about the age of two when the tantrums start, some even before then! No emotional hygiene education not to talk of emotional first aid! 
The result of our actions is what we now see.  
Our parents may have been 'uncivilized' but we got a lot more emotional education than we are giving our kids. Where our parents failed, the community made up for it! Now, we don't even have communities anymore!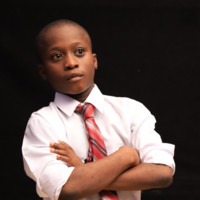 These "Self-affirmation cards" are good because they encourage you not to do bad things. Words like "I am intelligent, and I don't take things that are not my own" are very enlightening words to stop doing wrong things.
Then the other "Beating digital addiction cards" are also nice because they teach that technology is good but can also, be a huge distraction and advise on how to handle that.
I also love the books in the pack which are also helpful. It is just like the books are empathizing with me. I really love the books. I and my brother were reading the "Yes I can book", and there was a part where the book encourages us to draw something every day. My younger brother started drawing smiley faces, which was funny.
We really enjoy the books and motivational cards and I recommend them for every kid.
Programmer, Speaker and Future Skills Activist. Founder Joshfortech
Life Kit for kids
For Ages 3-10
30 Affirmation Flash Cards

Guided Meditation For Children

Self Help Guide for managing feelings, exercise, chores and healthy eating.
Life Kit for Tween & Teens
For Ages 11-17
30 Affirmation Flash Cards

Self Help Guide On Meditation

Exercise, Healthy Eating and more.
Digital Addiction Detox Kit
For Age 8 up
30 Affirmation Flash Cards

Digital Addiction with step by step tips, including daily trackers and feelings manager.
How does it look on the inside?
Most frequent questions and answers
Eniola Olajobi
The Brain Behind It All